Saturday September 26th 30 mile ride out
26 September 2020 @ 11:15 am

-

6:00 pm

BST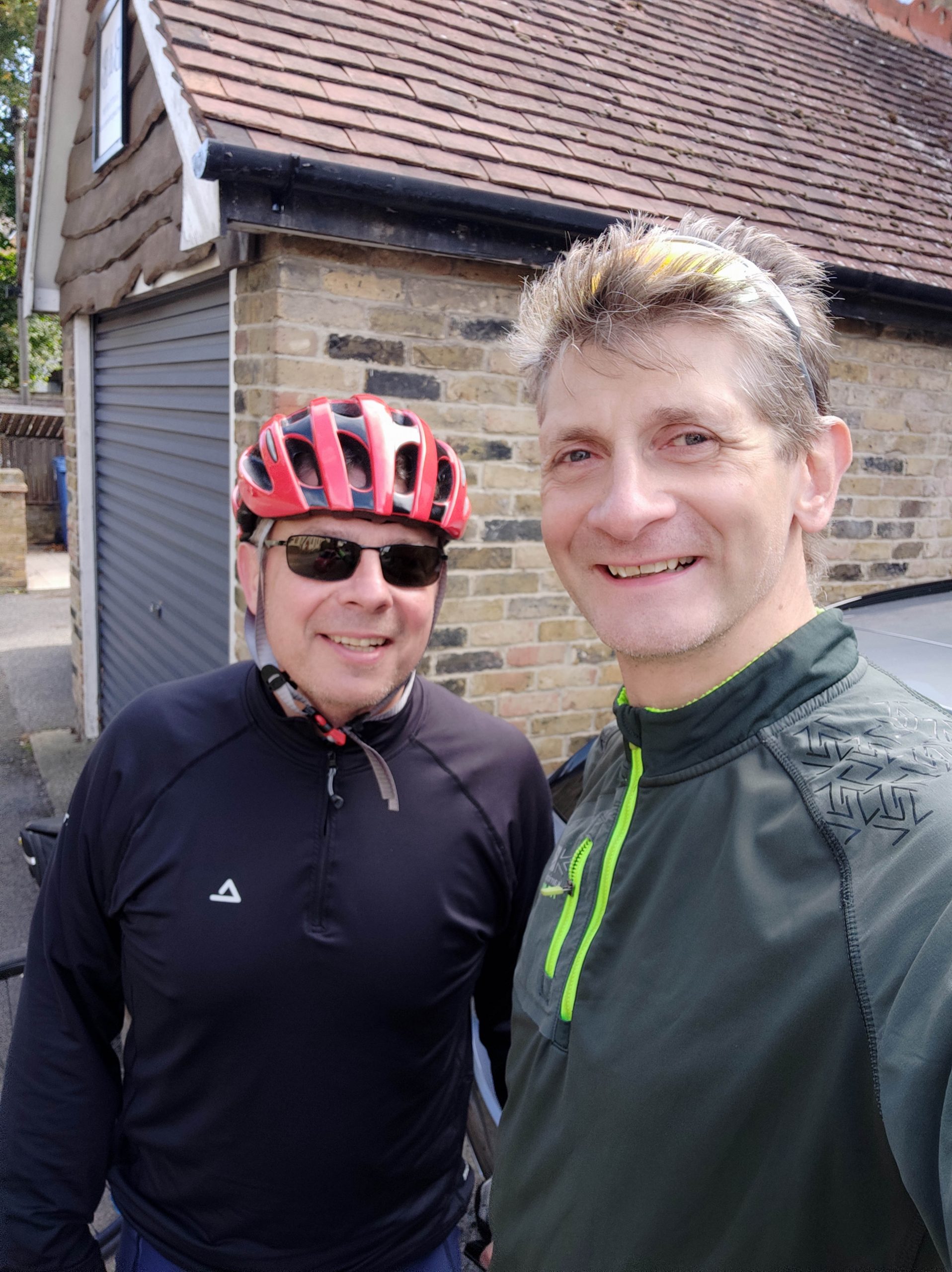 From either Reading or Windsor meeting up at Marlow for coffee.
How did our last ride go!
We didn't expect huge numbers because its such a local sort of bike ride, but in Windsor we had Mike Rose (https://www.linkedin.com/in/mikejrose/), Chris Bantock (https://www.linkedin.com/in/chrisbantock/) and Paul Fogg, (https://www.linkedin.com/in/paulrfogg/) and from Reading Kathy Turner (https://www.linkedin.com/in/kathysturner/) and David Horne (https://www.linkedin.com/in/davidkehorne/).
From Windsor;
We started out at 10.15am from Windsor – already the Central station area was full of cyclists! Mad lot! Following the rough route out of Windsor we tried as best we could to keep away from the main road, which was lucky because the M4 was closed and the local roads even busier than usual.
Lovely dry sunny but bit cold, but a good ride into Marlow. Found the coffee shop which was full so walked just down the road to sit in the garden of Cote for a coffee, although no cake – making do with a pastry was very much a disappointment for me… not saying it was all about the chocolate cake…but it was! The Reading crew arrived just behind us so our timings worked out better than I expected.
From Reading;
We met up at Reading station at 10am, it was a perfect cycling weather, dry, good light but not too hot. Leaving Reading was busy, with huge queues for the drive through McDonalds (we didn't stop there, before you ask). Once we had got to the Thames towpath the whole thing got a lot more relaxed, with just a few pedestrians to avoid. It got really quiet when we left the river and back onto the A4 cycles paths, lots of cars but not as many cyclists. Then through Wargrave, up a long hill (I like hills) and then cross country on little roads all the way to Hurley. Once across the footbridge at Temple (which is really nice) we had to wait whilst groups of runners on a 50 kilometre race went by, making us feel decidely lazy! A short hill, and then into Marlow for coffee and pastries.
After a chat and coffee we set off back, David and Kathy back to Reading, Chris went off to High Wycombe (I don't think he had had enough hills)! Mike and myself went back to Windsor on a slightly different route. Great ride and good to see everyone…. looking forward to the next trip out, already got a couple of guys interested so watch this space.
This ride was 15 miles each way, so a good challenge or a good training run, depending on your level
---
We will be starting in two groups – one in Windsor the other in Reading. Using the back roads so nothing off road but as quiet as we can make it. Route details below. Route is about 15 miles to Marlow so total ride under 30 miles.
Start time will be 10am meeting up in Windsor – Meeting at the Windsor Central station (NOT the Riverside station)! OR Reading Station and then meeting in Marlow about 11.30am for a coffee and cake!
We will be using the opportunity to raise some money for a local charity Rennie Grove Hospice Care but there is no need to feel like you have to raise any money or be involved because of this.
Windsor to Marlow
10am Windsor Cinnamon Cafe Goswell Hill, Windsor SL4 1PJ (in Windsor Central station area)
10.15am leave for Marlow
https://www.komoot.com/tour/258288543
11.30am arrive Marlow – The Cedar Coffee Shop, 28 West St, Marlow SL7 2NB
Coffee and (Chocolate) cake
12.00pm depart short ride around Marlow then home or directly home…. depends on what you want to do!
---
Reading to Marlow
10am Reading Station
10.15am leave Reading Station for Marlow
https://www.komoot.com/tour/258300812
11.30am arrive Marlow – The Cedar Coffee Shop, 28 West St, Marlow SL7 2NB
Coffee and (Chocolate) cake
Options are to go for a short group ride around Marlow before heading home
---
Kit List for overnight bike rides only!
Really useful
hat
shades
padded shorts (for Paul "The Wimp") and no mesh shorts or you'll find out the hard way why!
suntan lotion
change of clothes – lightweight stuff , fashion very optional!
ibuprofen
USB charger
snacks – although we always find a place to stop for snacks
water (David… this is on the list just for you)!
Lip balm
puncture kit
train tickets/hotel booking reference
money!
mobile phone!
Useful not essential
small towel
pen
shower gel
ear plugs (if you ever have to share a room….don't ask)!
We will be using hybrid bikes… nothing serious! Don't forget, pack light – you are dragging all your stuff with you!
Anyone interested please get in touch asap as single rooms at the Milton Keynes hotel will get filled up quick…but other options are available.
Stay Safe, keep cycling